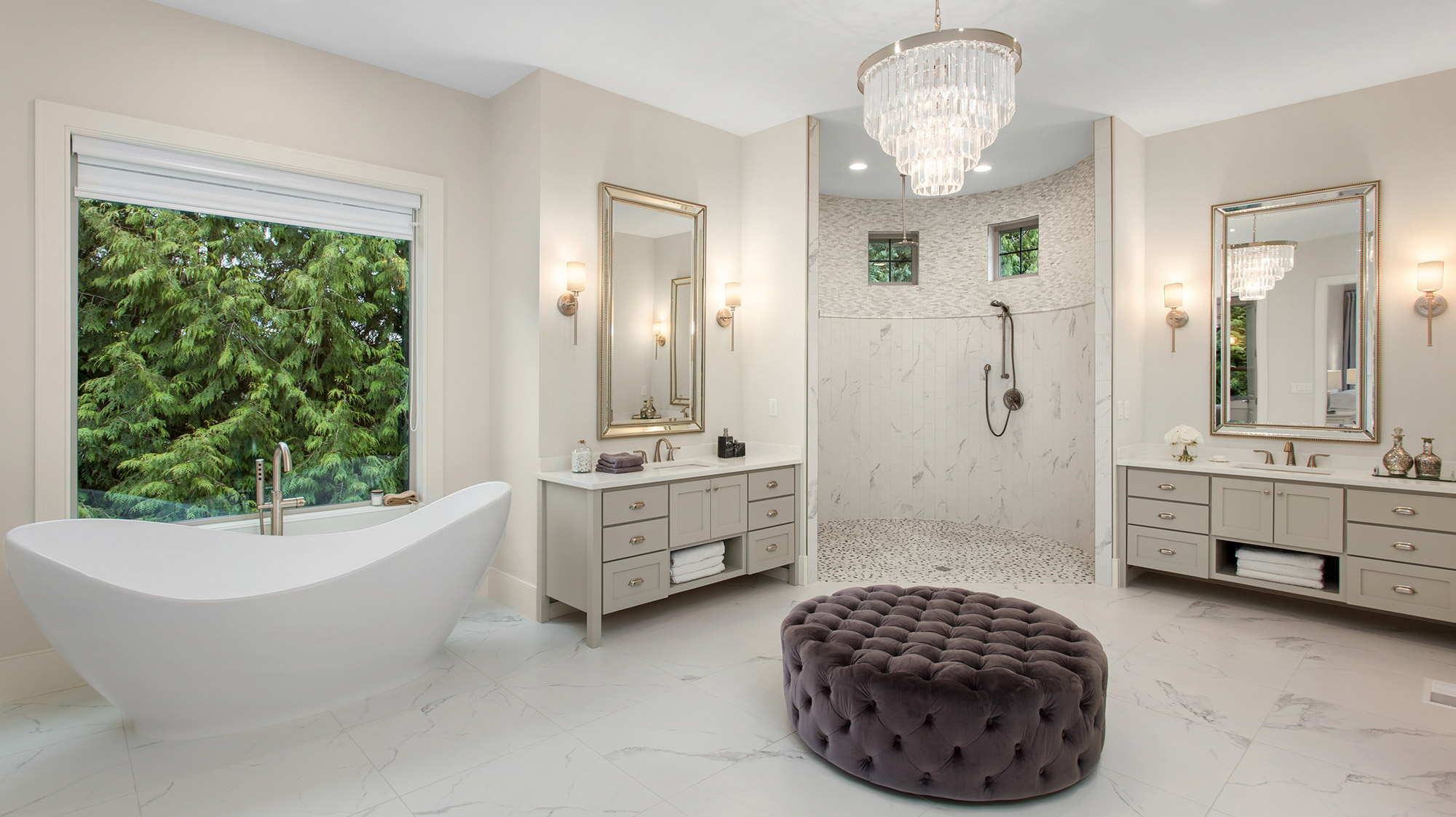 Having spent more time in our homes that ever before, you may have noticed your bathroom is in need of a refresh. However, if you're not in the market to spend tons of money on the project, there are creative ways to get the project done on a budget. If this is your case, here are five bathroom remodeling ideas that won't break the bank.
1) Limit your tile
Tile can get expensive. If you're looking to save money on your bathroom remodel, limit the amount of tile you use and concentrate on using it in areas that are a necessity, such as high-impact areas like the floor. In your shower, the tile will need to go to at least the showerhead. To avoid using floor-to-ceiling tile in the shower, you can save by tiling to the showerhead and then painting the rest.
If you have expensive tastes, consider using artistic and expensive tile only as an accent. They will stand out against the rest of your bathroom and save you money by utilizing a less-expensive tile on the majority of the area.
2) Get smart with your countertops 
Lots of homeowners are splurging on granite countertops. Because the sheer amount you'll need in your bathroom is much smaller than in your kitchen, while you're not spending as much here there's still an opportunity to save money.
Take a look at the most popular colors of granite countertops. Neutral colors like tan, brown and white are being used by most homeowners during remodels. You can instead opt for colors that aren't used as frequently to save money and make your bathroom stand from the crowd.
Additionally, most countertop fabricators have remnants from larger projects that are the ideal size for bathroom countertops and are much more affordable. You can look into this option to save money and recycle at the same time.
3) Try a new paint color
A budget-friendly way to give your bathroom a new look is to give it a fresh coat of paint. However, if you're going to take on this project, it may be best to enlist the help of a professional. This project will take a lot of time, patience and painters' tape due to the smaller space of most bathrooms. There are nooks, crannies, bathtubs, windows, mirrors, tiles and more to avoid. Although you'll save money on the paint, trust us when we say you may want to hire a professional for this one!
4) Fight the urge to move major plumbing fixtures
You can save lots of money by leaving the toilet and tub/shower right where they are. If their current locations fit your needs, there's no need to move them! Moving these plumbing fixtures will drive up the cost of any bathroom remodeling project.
5) Go green 
If you're looking for bathroom remodeling ideas, consider going green with your choices. Adding new appliances like low-flow toilets, sinks and showerheads will not only help you conserve water, but they'll save you money month to month on your energy and water bills.
All in all, remodeling your bathroom on a budget is a great way to give your home a refresh. Additionally, it can benefit you in the long run, as renovating your home's bathroom is a proven way to increase your ROI should you choose to sell down the road.
If you're in the Southwest Florida area and are eager to begin your bathroom remodeling project, contact Varian Construction at (239) 514-0103. Varian Construction is a 30-year-old, owner-operated company that takes pride in their projects all while alleviating the stress on the homeowner. They go above and beyond the call of duty for your bathroom remodeling project.